NetSuite, Data Migration, QuickBooks
September 12, 2023
3 min Read
How SmartLabs migrated transactions from 15 QBO files to NetSuite
OptimalData Consulting can make your NetSuite data migration easy and stress-free. Our process allows you to focus on other aspects of the implementation. Read below to learn more about how we simplified the data migration process for the SmartLabs team.
THE CLIENT:
SmartLabs Inc. designs, builds and operates integrated, enterprise-grade research environments for companies of all sizes. SmartLabs currently operates several locations in Massachusetts and California.
THE SITUATION:
SmartLabs had 15 different legal entities with separate QuickBooks Online (QBO) files. The client wanted to move all their transactional history from QuickBooks Online (QBO) to NetSuite as part of the implementation process. In addition, the team was looking for an efficient process that wouldn't require too much effort for their small accounting team and wouldn't require a change in the project's go-live date.
THE SOLUTION:
SmartLabs decided to partner with OptimalData Consulting to complete their data migration from Quickbooks to NetSuite, which included:
Mapped the historical GL accounts, customers/vendors, departments, and items between QuickBooks and NetSuite.

Loaded individual customer invoices, customer payments, vendor bills, vendor payments, and journal entry transactions, preserving the organization's financial history in NetSuite.

Prepared an audit documentation package, including a process memo, quarterly trial balance (TB), accounts payable (AP), and accounts receivable (AR) subledger tieouts, and an opening TB in NetSuite.

Generated and posted the advanced intercompany journal entries to produce the historical consolidated financial statements

Imported the 2021 budget and forecast so the financial planning and analysis (FP&A) team could analyze budget-vs-actuals reports in NetSuite instead of QuickBooks

THE RESULTS:
The SmartLabs team benefited from OptimalData Consulting's involvement by:
Only having three days of downtime when migrating their data from QuickBooks to NetSuite. The quick turnaround minimized the impact of the accounting team's day-to-day responsibilities and prevented a large backlog of transactions going into the year-end close.

The team saved tens of hours by eliminating the need to prepare the CSV upload files, meeting the data migration deadlines, and tying the financial statements between the two systems. The team could focus on other tasks associated with the NetSuite implementation and the year-end close with this additional capacity.

Utilized the benefits of a robust ERP system with all their historical data:

Access their data in one NetSuite system instead of toggling across 15 QuickBooks files.

Review their data translated to their new NetSuite segment structure.

Analyze budget-vs-actual reports directly in NetSuite.

Produce historical consolidated financial statements instead of digging into old Excel consolidation workbooks.

Prepare for their 2021 audit from data in one system.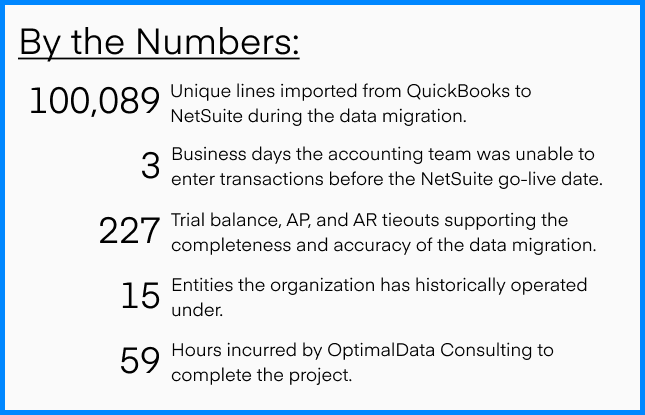 If you are implementing NetSuite and looking for a data migration partner, contact OptimalData Consulting today. We can ensure your team keeps their financial data in NetSuite.