Create a Seamless Data Migration Solution for Your Business
Effortlessly transition your detailed legacy financial data during your NetSuite implementation.
Don't Sacrifice Your Detailed Transaction Data
Importing detailed transaction data used to take hours; the process was inaccurate and incredibly complex. There was a significant risk that the data would be incorrect at the go-live date. As a result, implementation partners didn't recommend importing detailed transaction data during a NetSuite implementation. Our process creates a streamlined pathway for transitioning your organization's financial data onto NetSuite, including
Migrating Detailed Transaction Data
Keep your detailed transactions during your NetSuite implementation. We use a combination of approaches to move your data seamlessly and accurately during your implementation.
Audit Documentation Package
Our audit documentation package is customized to supply you with the documentation to make your financial auditors comfortable with your NetSuite implementation process.
Segment Map
We create a bridge file that maps out segmented data and values between your legacy system and NetSuite. The segment map will illustrate how your data was transferred from the legacy system.
Data Migration and Implementation Statistics
According to Anderson Frank's 2021 Careers & Hiring Guide – NetSuite Addition,
40%
of participants reported their NetSuite implementation was delayed.
46%
of survey participants reported data migration issues as the main reason their implementation was delayed.
62%
of participants reported they faced challenges during their NetSuite implementation because they lacked the necessary skills internally.
Our Data Migration Process
Our process migrating your detailed transactions into NetSuite simplifies your implementation process. It can prevent your go-live date from being delayed, saves you time, and gives you peace of mind that your detailed transaction data will be imported accurately.
Import Master Records

We start by reviewing your current master records. Master records are your segment and relational data. Segment data is how you categorize your financial data and usually includes the general ledger (GL) accounts, departments, classes, locations, and other custom segments. Relational data documents the parties your business interacts with and usually includes customers, vendors, and employees. We'll advise on the best way to import this data from your legacy system into NetSuite.

Build Segment Map

After we import your master records, we'll guide you through mapping the legacy segment values to the new NetSuite segment values. Each individual segment must be identified and transferred into NetSuite. This vital step determines how your data will appear in NetSuite.

Import Closed & Open Financial Periods

We'll load your detailed transaction data in two batches: closed and open financial periods. Loading closed financial first ensures that the migration process was successful, allows the client to validate some of the data, and gives clients a better NetSuite training experience. Once you've locked your legacy platform, we'll import your open financial data into NetSuite. This includes transactions from the current financial period through the NetSuite go-live date.

Validate Imported Data

Once all your data is imported into NetSuite, we'll validate your data. Our data validation includes trial balance, accounts payable, accounts receivable sub-ledger, and annual department and class profit & loss reports. Submitting this documentation to your auditors is an excellent way to help get auditors comfortable with your NetSuite implementation.

Support After Implementation

After we complete your data migration, we are here to support you. Support might include changes to historical data, building custom reports, and additional administrative tasks.
Our Pricing Model
Our pricing model includes a technology fee and consulting hours. The technology fee covers the value of our data migration solution. The consulting hours cover data preparation, segmentation structure review, and answering questions. Each project is unique, and pricing can vary based on project complexity and clients' needs.
Calculate your price
| label/definition | Number |
| --- | --- |
| Number of legal entities | |
| Number of months of detailed transactions | |
| Total cost | - |
Platforms We've Worked With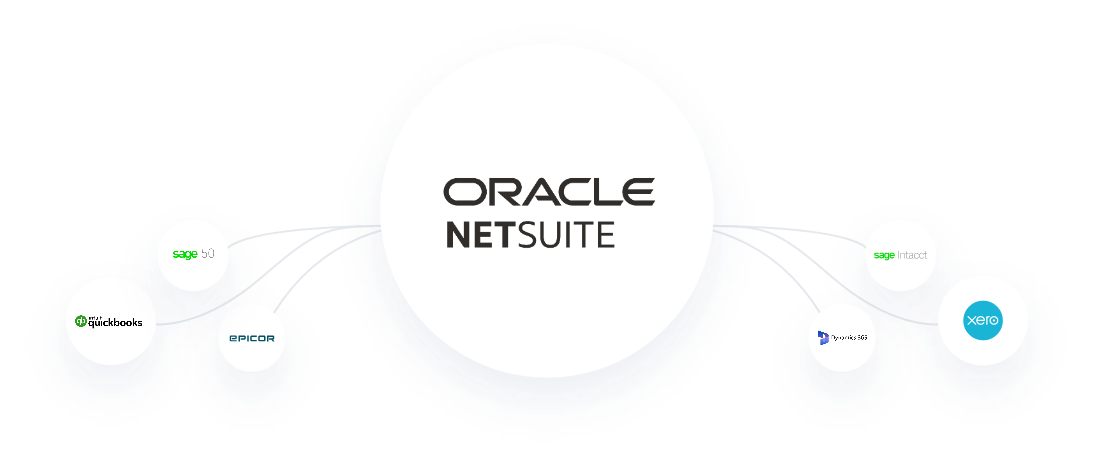 Why Work with OptimalData?
OptimalData specializes in helping clients accurately and seamlessly transition detailed transaction data from their legacy system into NetSuite. We focus on accurately importing your data into NetSuite, so your implementation stays on schedule. Our expertise brings you peace of mind and helps you and your implementation partner save time and reduce data migration risk.
FAQs
No! We focus only on data migration. We partner with implementation partners to ensure you have a successful transition to NetSuite with complete and accurate data.
Yes. OptimalData has the tools and experience to do this. Contact us to learn more.
We have experience working with QuickBooks Desktop, QuickBooks Online, Microsoft AX, Sage 50, Intacct, Epicor, and Xero. Is your legacy accounting software not on the list? Our approach will work if we can export the correct reports.
It depends on the complexity of your legacy data. We consider the number of subsidiaries, the transactional currencies, and the data volume. Contact us to get a quote.
Yes. We've helped several clients get their historical data fixed after going live with NetSuite.
Our current sweet spot is NetSuite. However, contact us if you want to explore if our approach will work for your system. Our process creates CSV files for uploading data, which ERP systems generally support.
Ideally, we start working on your project at the beginning when you are loading the master records to NetSuite. The mapping exercise is the most complicated part of the project. However, we've successfully hit go-live dates for clients signed within one week.
Currently, we do not have a method to include attachments on legacy transactions.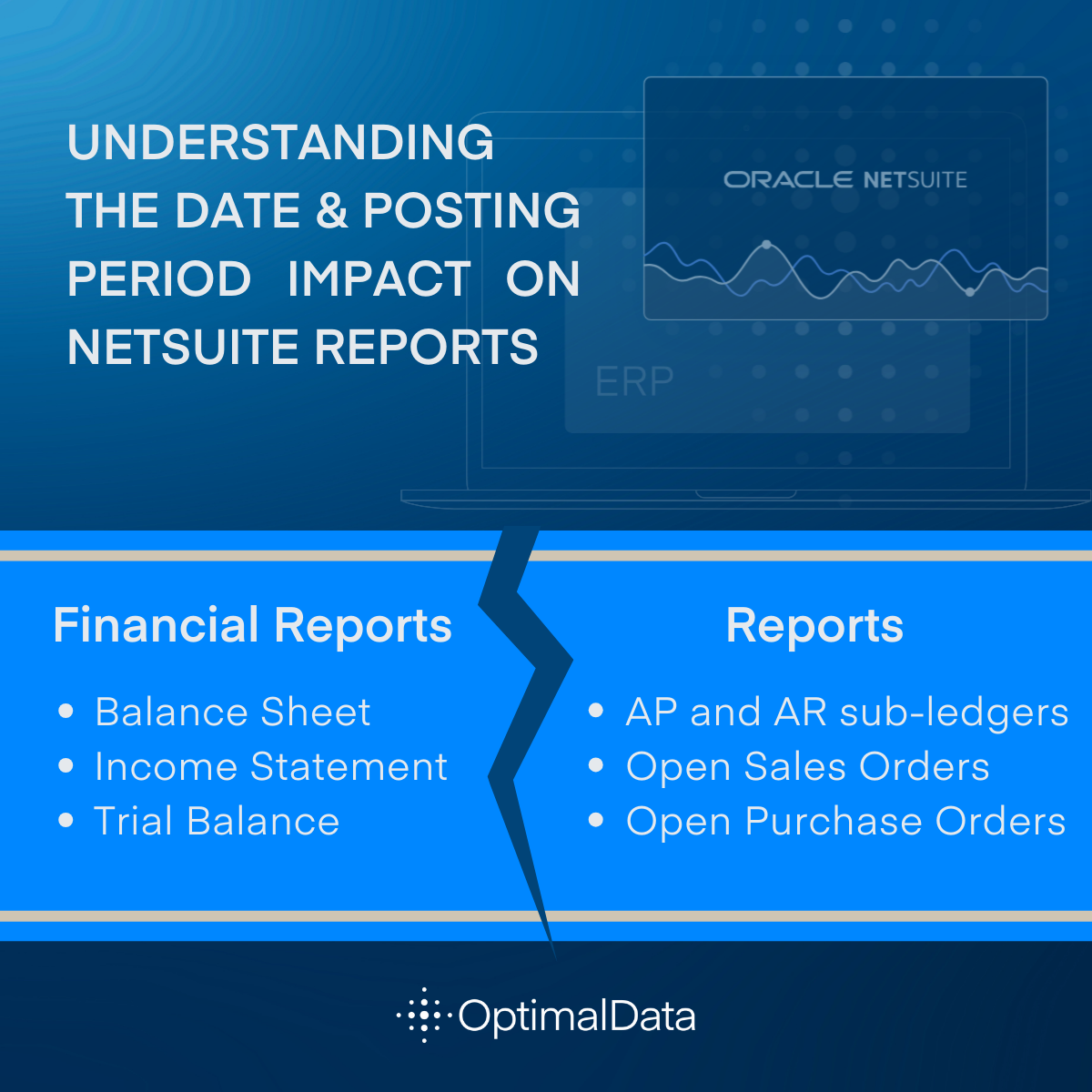 Recent Post
Understand the Date and Posting Period in NetSuite
Read More
---
Implementation Resources
Do you want to learn more about NetSuite implementations? Dive into the implementation planning process, financial data segmentation, and best practices.
View All
---
Reporting Resources
Learn tips and tricks for optimizing reporting your financial data inside NetSuite.
View All
Make Your NetSuite Implementation Effortless
Let's discuss how we can create a tailored strategy to import your detailed transactions.
Contact Us
---