Financial Reporting, NetSuite, Implementation
March 16, 2020
2 min Read
NetSuite | Common biotech GL account structures
The general ledger (GL) account structure is an art, not a science. Every company has unique reporting requirements. The GL structure is a way to ease reporting requirements. There are good ways and bad ways to structure the GL. Here are a few tips and tricks that I've found after advising several biotech organizations on restructuring their GL during a NetSuite ERP implementation:
GL accounts should be generic - In QuickBooks, companies are limited to the GL account and class fields for organizing data. Because of this, companies often combine other segments into the GL. This is a bad practice that clutters the GL and makes it hard to get consolidated expense numbers. In NetSuite, have GL accounts, departments, classes, and an unlimited number of custom segments. With this in mind, leverage the segment structure to consolidate accounts and make GL accounts strictly activity-based. This makes it easy to get the total activity expense and see the details by leveraging the department or class field. Selecting the correct GL will be easier because there are fewer accounts to choose from. Here is an example:

Define the GL account activities - Defining what should be coded to each account is critical for consistency across the organization. This will improve the quality of budgeting and ensuring purchase orders are coded correctly by scientists. The more clear each account is, the better the financial reporting output will be. The 'garbage in, garbage out' principal applies here.
Leverage NetSuite's Summary account feature - Summary accounts allows teams to quickly see the subtotal of operating expenses and prevents users from posting activity to a summary account. This is important because users should be posting at the more-specific account. Below are a few operating expense example structures that I have seen that work well. Best practice is to have the GL structure mirror how the company reports results to the board.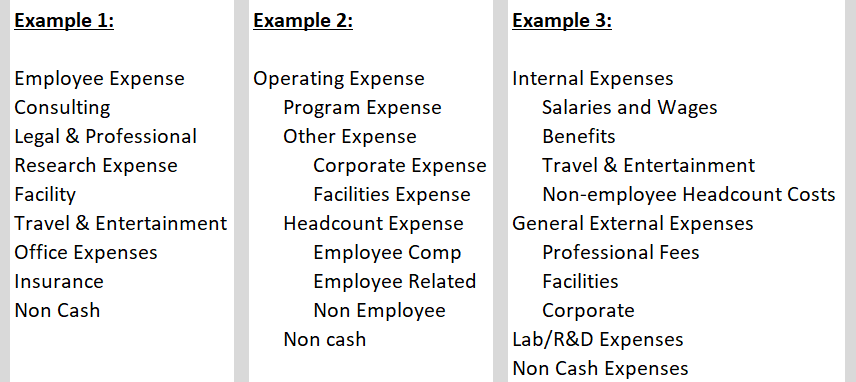 If your biotech organization is reorganizing their segment (GL accounts, departments, classes) structure as part of a NetSuite implementation, contact us at intheBlk. We have assisted several biotech organizations with their NetSuite implementation, including mapping the segment structure and converting historical financial data from the legacy ERP to NetSuite.